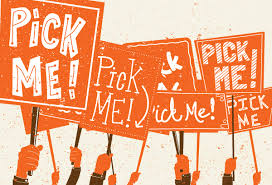 Working as a freelance copywriter can be highly rewarding, allowing you to nurture your creativity while exploring a wide range of interesting subjects. One day you might be tasked with blogging for a musician, and the next day might have you crafting a case study for a cosmetics company. But the application process for these positions can be very competitive and rigorous. How can you ensure that your resume makes it to the top of the pile? Let's dive into a few tips for ensuring that your freelance writing application stands out and doesn't get lost in the shuffle.
Read the Instructions 
Before you write, you've gotta read. Thoroughly peruse the job posting or application instructions. For many gigs, the posting will specify what specific subject line you should use, which person you should contact, or whether you should include salary requirements. Sometimes the company will request a writing sample or a link to your portfolio. If you only skim the body of the ad, you could miss important instructions and come across as unobservant to your prospective employer.
Make It Reader-friendly
Keep in mind that the hiring manager may get inundated with dozens of applications for the position. While your resume and cover letter should be attractive and well-designed, they should also be organized with the reader in mind. Break your cover letter into smaller, digestible paragraphs, and use bullets or lists in your resume. Incorporate headings and bold text to highlight particularly important points.
Be Genuine
Copying and pasting a cover letter template will put your resume on the fast-track to the trash bin. Let your real personality shine through, whether that's by using a fresh, genuine writing style or including personal (but not too personal) details about yourself. Mention what you like about the company, and how you think you can help them achieve their goals. Be honest about your qualifications; don't over- or under-sell yourself. There's a fine line between impressing the hiring manager and turning him off with a smarmy sales pitch.
Choose the Right Samples
At some point, you're going to have to supply writing samples. Choose samples that are relevant to the work the company does. If they're in the education industry, for example, you might send an instructional piece or a news article about education reform. Beyond their core content, you should also pay attention to the tone and voice of their work. Do they like tongue-in-cheek, or are they a more professional, polished firm? Tailor your clips accordingly. If you're applying directly to an advertising company, you may find it worthwhile to send a variety of pieces to showcase your range.
No-one ever said it was easy to break into the freelance writing industry — but these four tips will help you stand out among the sea of applicants searching for the perfect copywriting client.