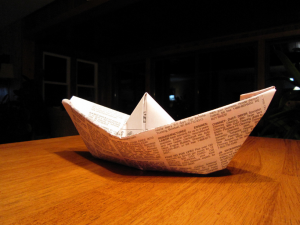 Since the early 1990s, businesses have used white papers as marketing tools to provide select information about products, services, or new developments, and to boost sales. White papers are typically multi-page documents, either printed or in PDF format, that contain text along with images, graphs or charts, statistics, and other elements designed to favor a certain brand or conclusion.
In today's fast-paced world of condensed information and short attention spans, are white papers headed the way of phone books and newspaper ads—or is there still a place for these in-depth presentations blended with sales pitches?
Why the white paper is losing favor
Often when someone mentions "white paper," eyes start to glaze over. The reason? Originally, white papers were for primarily academic or government use—and many businesses adapting them for commercial purposes stick to the dull, dry, overly long spirit in which they were created.
Another common problem is that it's tricky to get the tone right. An effective white paper should come across as informative and interesting, with a light bias toward the company that published the paper (which is expected and acceptable). However, many white papers are written as blatant marketing pieces with more fluff than fact.
White papers and modern marketing: Can it work?
With today's marketers focusing on messages that will fit in a paragraph on Facebook or a 140-character tweet, can long-form advertising like white papers compete with snappy headlines and instant gratification? If it's done right, they can.
Not all white papers are created equally. In fact, the white paper is a versatile document that can be written in several different ways. The three main types of commercial white papers are:
Numbered lists: This type offers a set of points, questions, or tips, usually about a specific business issue—which the company publishing the white paper is able to solve
Backgrounders: These white papers explore the benefits of a company's offering—typically either a product, service, or methodology (for tech or consulting companies)
Problem/solution: In this type, a common business problem is discussed, along with a point-by-point look at the solutions a company can provide
White papers may use one of these formats, or combine them—usually by adding numbered lists to either a backgrounder or problem/solution scenario—to create more detailed white papers.
Once you have an engaging white paper, the next step is to make it accessible. Printed white papers are all but extinct—but there are many ways to present white papers digitally and reach a wider audience.
For example, you could offer the traditional PDF format, or a popular eBook format such as EPUB, as a free download on your website. You could break down a white paper into sections and use it as a multi-installment email marketing campaign, or offer the full document as a free bonus when people sign up for your email list.
Don't have the time to create an engaging and informative white paper? Consider hiring a freelance writer to put together a highly readable, professional presentation to market your business.