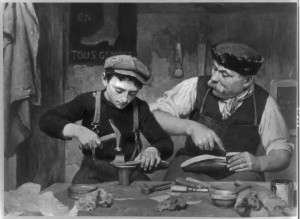 Establishing a relationship with a mentor is a valuable milestone for any young professional. Not only can it provide meaningful insight and industry knowledge, but it can also help you hone your skills and become more desirable in the job market. Whether you're a freelance writer building a portfolio or a recent marketing graduate, a mentorship can help you develop into a more well-rounded, well-informed person.
While the need for a mentor is common business knowledge, many professionals find themselves stumped when it comes to getting started. Here are five tips to help you find the right advisor and continue full steam ahead along the path to success.
1. Set goals.
Before answering the question of who your mentor is, you should think about why you want one. Are there any particular abilities or skills that you would like to improve? In which areas of your career do you need feedback? By setting goals for what you would like to accomplish with a mentorship, you'll increase your chances of finding the right person to help you achieve them.
2. Know what to look for.
You should have at least a rough idea of your dream mentor. Ideally, it should be someone who's very much like yourself, and who has a career trajectory similar to the one you'd like to take. If your mentor shares many of your traits, you'll find it much easier to communicate and glean valuable wisdom from their experiences.
3. Start slow. 
During this process, you may find a few potential mentors on the horizon. Rather than simply asking one of them to guide you, take the time to get to know them and gauge whether they'll be a good fit. This is where the Internet is invaluable. Do plenty of research on potential mentors, whether that's by reading their blogs or researching their work history on sites like LinkedIn.
4. Get to know them.
Once you've done your due diligence, invite each candidate out for coffee or lunch, without expressly stating that you're feeling them out for a mentorship. This will give you the opportunity to learn who they are as a person and test your professional chemistry. While it's wise to have a few questions in mind, don't conduct the meeting like an interview. Keep it informal and friendly, but pay close attention to the vibes you're getting from this person. Do you think you can learn from them? Would you enjoy spending time with them?
5. Let it develop naturally.
Once you've narrowed down the options and made your choice, don't force anything. After your initial meeting, email or call to say you'd like to meet again and make plans for a future date. The relationship should develop organically, but if you find yourself stuck at any point, you can always simply ask if they'd be open to a mentorship.
Finding a mentor can be tricky. But by taking things slow, keeping an open mind, and carefully considering your options, you'll be poised to establish a dynamic, reciprocal relationship that will inspire and motivate you for years to come.