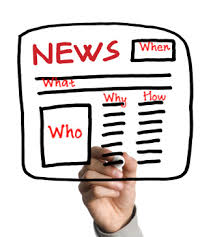 There are many different kinds of writing, and sometimes it's hard to draw the lines of distinction. Some writing disciplines overlap, requiring similar skills, methods, or mindsets. But it's often important to know the difference, especially if you're a copywriter with clients looking for certain types of content.
While there are some similarities between journalism and business writing, the requirements and approaches are different. Here's what you should know about each of these writing areas.
Business writing: It's mostly marketing
The business writing category covers most types of copywriting assignments. Web content, blog posts, brochures, case studies, email campaigns, press releases, product descriptions, and even some articles are all considered business writing.
The main characteristic of business writing is its intention to sell. The piece might be peddling a product or service, an idea, an opinion or viewpoint, or even entertainment—but it's usually written to convince the reader of something. By definition, business writing is biased in favor of the business that's using the content.
A piece of writing with intent to sell typically requires a different writing style. There's always some degree of hype involved, with varying intensity—the hype might be subtle for press releases, and blatant for email campaigns. Business writing employs "salesy" copy, with strong descriptions, interesting turns of phrases, wordplay, and calls to action.
Journalism: It's mostly facts
The journalism style of writing is for reporting the news. Journalistic pieces present the facts to readers, backed by research and fact-checking. But there's more to this type of writing than dry, fact-filled paragraphs—journalists must also be able to grab attention and engage readers.
One of the biggest challenges in journalism is maintaining a neutral viewpoint. Every issue has at least two sides, but journalists aren't supposed to pick one. Instead, journalistic pieces must be written in a way that informs without bias, and lets readers make up their own minds on the issue.
Instead of hype-driven wordplay and sales-tuned copy, journalism writing uses clear language, interesting turns of phrase, and judicious quotes from verified resources. One thing journalism and business writing have in common, though, is the need for catchy headlines.
Writing on both sides
As a full-service freelance copywriter in Cincinnati, I can provide pieces in a variety of styles, including journalism. One of my regular assignments is writing articles for Adweek, an online industry news website. A recent piece I wrote, "CVS Pulls the Plug on Apple Pay", is a good example of a compelling headline followed by a balanced article that reports on the issue—including the pros and cons of Apple Pay for retailers, and the fact that CVS may reconsider if Apple's mobile payment system sees more widespread adoption.
Had this been a piece of business writing, it might have focused on how great Apple Pay is, and why more retailers should adopt the payment system.
Do you take on business writing and journalism assignments? What's your approach to journalistic writing?