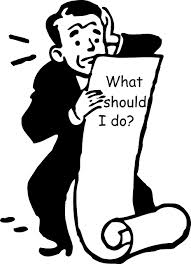 To-do lists can be a writer's best friend. Making lists not only helps you figure out everything you really need to get done, but also provides a sense of satisfaction as you check off finished items.
On the other hand, the humble to-do list can also become a driving force that dictates everything you work on—if they're not managed well, you can end up constantly working in reactive mode instead of gaining steady ground on your mountain of work.
How to-do lists evolve into taskmasters
It's natural to group tasks on a to-do list according to urgency. In fact, one of the most popular ways to categorize to-do lists uses the "four quadrants" defined by Stephen Covey, author of The 7 Habits of Highly Effective People. These quadrants create groups of tasks that are:
Important AND urgent
Important but NOT urgent
Unimportant BUT urgent
Neither urgent nor important
Most people assume that tasks under the first group, important AND urgent, should be tackled first. But Covey has stated that the second group—important but NOT urgent—should actually be a higher priority.
Why? When you're focused on doing nothing but important, urgent tasks, you're constantly in putting-out-fires mode. You only handle things when they absolutely have to be done, and as a result you fall behind on larger projects that have long lead times.
For a freelance writer, working on the most important and urgent tasks often means putting off that huge 10,000-word assignment that's due in three weeks, because you have plenty of time and more urgent things to do—only to suddenly find yourself with just three days to write 10,000 words.
How to change your lists and master your tasks
If your to-do lists have gone from inspiring to daunting, a shift in your priorities can help you work more efficiently, stop procrastinating, and get out of rush mode more often. Here are some tips to help you tame a runaway to-do list:
Break it down: This is an elementary to-do list step, but many writers still skip it. If you have a big project, don't write it down as "finish a 10,000-word ebook". Instead, list smaller tasks such as "research ebook, write ebook outline, write 2 ebook chapters," and so on, spacing the tasks out until the deadline.
Use a "WANT to do" list: Add a category of tasks you want to get done today to your lists. You'll feel more motivated to get to them, and more confident when you check these items off.
Keep the "MUST" list short: If your to-do list has ten items under the "do this today OR ELSE" category, you'll end up feeling demoralized and overwhelmed. Consider your musts carefully, and decide which 2 or 3 things really have to be done today—and which ones can be moved.
Make a "quick tasks" category: Add a list of things you can complete in 5 minutes or less, and tackle those tasks when you have a break—such as between phone calls, or in the middle of a larger assignment. Your lists will start showing more accomplishments, and you'll feel like you're making progress.
Consider outsourcing your optional tasks: If you have a list of things that would be nice to get done, but they aren't important or urgent, think about outsourcing. There are inexpensive sources for overflow tasks, such as eLance and Fiverr—and if you have teenagers at home, they'd probably be interested in earning some extra cash.
Emulate the experts. Check out these 6 things successful freelance writers do every day.
With a few simple changes, your to-do list can be more manageable than ever. How do you tame your to-do list?