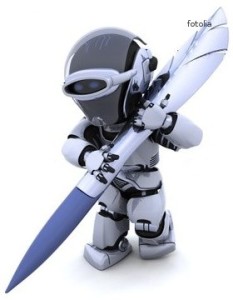 Have you read anything on Wikipedia lately? If you've come across entries on the world's largest online encyclopedia that seem a bit stilted, like they could have been written by a robot—there's a chance they actually might have been.
A bot program called Lsjbot, written by Swedish university administrator Sverker Johansson, is able to write up to 10,000 Wikipedia entries a day. Many of the bot's entries are about either animal species or small towns in the Philippines, but Lsjbot has been incredibly prolific so far with more than 2.7 million articles posted on the site—or about 8.5 percent of total entries.
Lsjbot isn't the only robot that's written Wikipedia articles. The rambot, a U.S. based bot program written by Wiki user Ram-Man, began "writing" entries about U.S. county and cities in 2002. Rambot's first entry was Autaugaville, Alabama. And rambot is just one of the 1,647 Wikipedia bots currently listed as contributors, both active and inactive.
Is this the beginning of the end for human writers?
Robots and writing sophistication
As technology has advanced, software programs have been developed that allow for vast amounts of data to be gathered, filtered, matched, and placed together in particular ways. This includes the English language. In fact, bots are used to generate a significant volume of news reports, including by the Associated Press—they can quickly turn a set of facts into a readable news story, and are available to "write" at a moment's notice.
However, most experts don't see robots as replacements for human writers. Instead, these writing bots can be relied on as efficiency tools, generating routine content such as financial reports or breaking news summaries. This frees up human writers to focus on more in-depth, emotionally charged content.
Kris Hammond is the founder of Narrative Science, a service that uses the Quill writing bot platform to provide narrative reports for businesses. Hammond recently claimed that by 2025, 90 percent of the news the general public reads will be generated by robots. However, he explained, "That doesn't mean that robots will be replacing 90% of all journalists, simply that the volume of published material will massively increase."
Can robots beat the real thing?
Writing robots are increasingly sophisticated, and some are able to produce copy that's practically indistinguishable from human writing. And of course, they're faster and more efficient. But are they better?
Human readers can breathe a sigh of relief, because while robots may become copy workhorses, there are many aspects of writing that a robot author simply can't accomplish. Robots can't get creative—they can only work with the resources they're given. Robots can't draw emotional connections or infer meaning. Robots can't be subtle, or funny, or conversational.
So as long as people demand entertaining, interesting, and emotionally meaningful content, human writers will get to keep their jobs safe from the robot revolution.