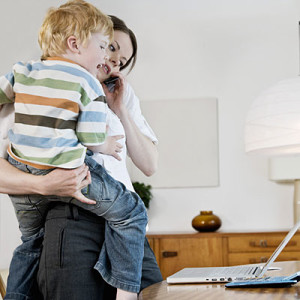 Ever wonder what it's like to be a freelance writer? Naturally, most of it involves lounging by the pool with a cool, refreshing drink in one hand and a laptop by the other, idly typing away on assignments you're really excited about while the money just pours into your bank account—or maybe not.
Here's a look at a real day in the life of one freelance writer who doesn't currently own a pool and hasn't started drinking by breakfast (yet). Working from anywhere has its perks, but it's not always as glamorous as it sounds…
5:30 a.m. Before I'm truly awake, I lace up and head out for a quick five-mile run. My body must move first before my mind will follow suit.
6:00 a.m. Mornings start the same way as any other family—get everybody up, fed, dressed, and ready for their respective days. Kids to school, adults to work. The big difference for me: "going to work" does not involve any driving. I can just walk across the hall into my office. Hooray!
8:00 a.m. Consider a shower, but that's preempted by some early work. First order of business is to check my — oh, wait, the school's calling. Someone's forgotten a lunch, and someone else may or may not have lice. Good thing the school's only five minutes away. BRB
8:36 a.m. The workday begins (seriously this time). First order of business is to check my email. I've set a rule in the interests of productivity: email is checked only three times a day. Morning, lunch, end of day. I respond to everything and feel very productive. No more email until noon—on to checking today's calendar and getting things done.
9:00 a.m. Finish up an article I started yesterday that's due today, and send it off to the client. Now everything I have is new work, so I pick the most complex one and start researching. It's easier to write about a topic if I've read up and let it simmer in my brain awhile before I get started. Get a little sidetracked and lose 15 minutes following random links, but I'm back on track soon.
10:00 a.m. Thinking about that shower again… it's okay, it's not like there's anyone around to smell me. Still plenty of time to shower before school's out.
10:27 a.m. Broke my email checking rule (it was an accident) and found an emergency request from a long-term client, sent three minutes after I signed out earlier. They really need this press release to jump on an opportunity due to breaking news, and could I possibly have something for them by 2 p.m.? Fire off a reply—of course I can, I'm super freelance writer!—and start on the press release.
12:00 noon: Supposed to break for lunch right now but I'm almost done with this press release. I'll grab a sandwich and eat at my desk. Take a break later.
1:47 p.m. Press release done, three assignments researched, one article outlined, one intro written. I could really use a nap right now. But the bus is going to be here soon, and that shower is still calling me… maybe I'll just grab a Diet Coke and see if there are any Kit-Kats left in the kids' Halloween baskets…
2:45 p.m. Heard all about the kids' days at school, reviewed homework, got everyone a snack, and now they're watching a movie while I get back to work. Must finish at least one of these assignments today. Background noise and the afternoon blahs break up the concentration a little, but I'm still making progress.
4:08 p.m. Wrapped up a blog post and made headway on a case study. Had to stop when one of the cats chased a squirrel up a tree and got stuck 10,000 feet in the air, promptly sending the kids into panic mode. After an hour of balancing precariously on a 12-foot ladder and plying Skippy with treats, he rolled his eyes and calmly climbed back down all on his own. Back to work.
5:00 p.m. The workday is over! Now to close the office door and spend quality time with the family, and relax for the rest of the night… just kidding! It sounded good, anyway.
6:00 p.m. Making lunches for tomorrow, battling homework wars, signing tests and permission slips, letting the husband vent about his hectic day in the corporate grind, cleaning the kitchen, navigating the rough terrain of prepubescent girl drama…
6:30 p.m. Dinner? A simple phone call puts an end to that dilemma.
9:00 p.m. Now that the kids are fed, (somewhat) clean, and in bed, it's time to wrap up that case study I almost finished earlier, write the intro for the assignment that's due first thing tomorrow, set up the next day's calendar, update the website, check messages, reply to a few clients, and get that query out I meant to send three days ago. Oh, and maybe I'll manage to scrape up half an hour to work on that novel that's been mocking me from the taskbar for weeks…
10:45 p.m. Just remembered that shower… oh well, too late now. There's always tomorrow.
11:48 p.m. Finally going to bed. Tomorrow I'm going to have everything done by 5, I swear. Okay, I'm at least going to finish everything by 5 on Friday and take the weekend off. All right, maybe just Sunday…