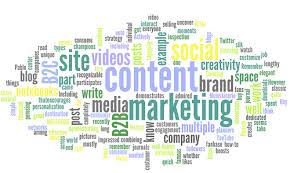 It's happening more and more often lately: a client will contact me with what's purportedly just a simple writing project… but then as the specs and goals unravel, it becomes clear that she's looking for more than just a copywriter: she needs a content marketer.
But wait — aren't they the same thing? Not exactly. Some copywriters stick strictly to wordsmithing (and there's nothing wrong with that!), while other writers are more marketing-minded and enjoy incorporating their writing into the overall package. Many writers are somewhere in the middle.
And, of course, not all content marketers are copywriters.
Definitions of Content Marketing & Copywriting
If you think of content marketing as a house, copywriting is like one of the support beams. Could the house stand without the beam? Most likely, but it wouldn't be nearly as strong or sturdy.
The Content Marketing Institute defines content marketing as "a marketing technique of creating and distributing relevant and valuable content to attract, acquire and engage a clearly defined and understood target audience." Whatever technique is used — from email campaigns to text messaging to online display ads — the objective is to get customers and prospects to click, convert, share, or do SOMETHING that contributes to a healthier bottom line.
According to Wikipedia, copywriting is "written content conveyed through online media and print materials, primarily used for the purpose of advertising or marketing, often used to persuade a person or group as well as raise brand awareness."
What Does Content Marketing Look Like?
There are countless types of content marketing pieces. Below are just a few:
Infographics: As the name implies, these are attention-grabbing graphics that present any kind of information, usually statistics or compelling facts, all presented in a highly visual — and usually very colorful – way. Here's a link to some of the most popular infographics of 2014.
Podcasts: Anyone selling a product or service can use podcasts to distribute value-adding audio content to their audience. Podcasts can include entertainment, guidance, information, interviews, or anything that supports the publisher's goal. Here are a few examples of high-impact podcasts.
Whitepapers: Wikipedia defines a whitepaper as "

an authoritative report or guide informing in a concise manner about a complex issue and presenting the issuing body's philosophy on the matter. It is meant to help readers understand an issue, solve a problem, or make a decision." Not necessarily sexy or entertaining, but definitely value-adding when presented to the right audience.

eBooks: Electronic books can be written about any topic, product, service, or industry. For instance, a personal trainer might hire a freelance copywriter to write an eBook with fitness and nutrition tips, and then incorporate a "soft sell" driving readers to his website to learn more (and to ultimately book training sessions or purchase his other products or services). Check out some examples of effective content marketing eBooks.
Videos: Justin Bieber isn't the only one who got rich through YouTube. Modern companies recognize the power of online video content. And it's easier (and more affordable) than you might think. You don't necessarily have to hire an expensive production company to create a compelling, useful video that highlights your product or service.
There are plenty more examples, from case studies and product guides to interviews and how-tos. Anything that can be distributed to a target audience — with the goal of persuading them to act — is a form of content marketing. Some types, like business books and whitepapers, obviously require copywriting. But for other types, businesses may attempt to forgo hiring a writer and produce the media in-house.
So, you may be able to produce content marketing pieces without copywriting — but they won't be nearly as effective. After all, given the choice, you'd never leave out that support beam when building a house… so don't skimp on well-crafted words when investing your time, money, and energy in a content piece.