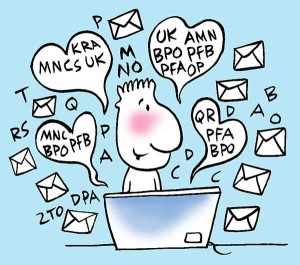 The widespread use of email has, for better or worse, transformed society. Now instead of making a phone call to a colleague, a business, or even a friend to find something out, we can just fire off an email. In fact, some people go to great lengths to replace all phone conversations with email. Even face-to-face conversations have decreased with the rise of electronic communication.
But is this reliance on email turning us into crappy writers?
The case for bad writing: Email is rushed and sloppy
Some people believe the medium of email promotes bad writing. It's often informal and hurried, a quick note dashed off without any proofreading or even a simple scan. Many an awkward, hastily written email is tone deaf: riddled with poor word choices, spelling and grammar mistakes, and far too many exclamation points.
What's more, people receiving email seem to have little or no expectations for writing standards. There may be some risk of professional consequences, such as not getting promoted because your grammar is terrible and management feels you're not an effective communicator. But there are no email police to impose penalties for misplaced commas, all-caps subject lines, or barely coherent sentence fragments that are missing important elements—like verbs.
The case against bad writing: Volume improves quality
On the opposite side, some people view this explosion of email as beneficial. Relying on email as a primary method of communication forces you to write more—and theoretically, the more you write, the better you'll be at it.
Email has brought regular writing into the lives of many people who would otherwise never write a thing if they could help it. Those who avoided essays and reports like the plague during their educational years are now pounding out paragraphs with ease, on a daily basis. Managers and executives who might have dictated their correspondence to secretaries are now writing out their thoughts directly (and secretaries are now administrative assistants, with considerable writing chops of their own).
The verdict: Email isn't all bad
Atrocious spelling, grammar, and sentence construction continues to plague short-form written communication—just read the comments section on any YouTube video for proof. But as a whole, email may have actually improved the average writing skills of America, comma splices and all. And there are some pretty cool things you can do with email that can't necessarily be accomplished with a pen and notepad.
Your inner grammarian may cringe at the homophone confusion or the shotgun approach to punctuation you see frequently in your inbox—but hey, at least they're writing.