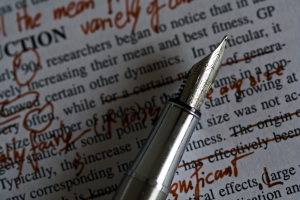 All freelance writers go through it. Whether we're writing web copy, product descriptions, or press releases, there will inevitably be those heart-sinking days when clients give us — to put it delicately — less than stellar feedback. Maybe the tone or style wasn't quite what they had in mind, or perhaps the research was lacking and a few facts were missing or in error. Or perhaps the client is just exceedingly picky and darn near impossible to please (which is a separate issue altogether).
Whatever the source of the dissatisfaction, that first instance of negative feedback can be a crushing blow to a freelance writer's ego, especially if he or she is just starting out. But as your skin thickens and you get some content jobs under your belt, you'll get better at handling criticism from clients — and, in many cases, turning it into a positive.
Read on for a few tips on how to gracefully receive less-than-glowing feedback, and come out of it with your confidence intact.
Remember that it happens to everyone. We've all heard the stories about how Stephen King and J.K. Rowling endured dozens of rejections before their first books were published. Judging content is extremely subjective, and there will inevitably be someone who doesn't fall in love with your stuff. Keep in mind that you're in good company, and one disillusioned client does not erase your previous successes and skills.
Step back before reacting. It can be tempting to immediately reply in defense of your work, but it's best to take some time to let the feedback sink in. If the client provided clear and detailed gripes, you know what you're dealing with. But if the feedback was vague — such as "It didn't meet expectations" — ask for clarification of what specifically didn't float their boat.
Do some discovery. Once you have the detailed feedback, revisit the project specs and make sure you didn't miss anything. Next, review the content again and make sure you didn't miss any errors. If you realize that any part of the content falls short of your best work, you can acknowledge that in your response.
Take responsibility. If you discover that you were at fault for any of the issues — whether it was a typo or a botched fact –  'fess up and offer an apology. Never offer a string of excuses or pass the buck. The client doesn't need to know that your kid was sick and you were distracted while writing their article. Just apologize and offer to fix it.
Offer revisions. Most freelance writers offer one (or sometimes two) round of revisions at no additional charge. I'd say in 99% of these cases, some thoughtful editing can turn around the whole situation. Of course, if the client has suddenly decided she wants to make sweeping changes to a project's topic or scope, that warrants a separate conversation and fee adjustment.)
Keep the client's needs in mind. If you're not meeting them, the project won't succeed. Treat every complaint as an opportunity to better understand those needs, so you can recalibrate your arrow and hit the bulls-eye squarely next time.
These are just a few best practices for handling negative client feedback. I'd love to hear what other freelance writers (and clients) would add to this list!