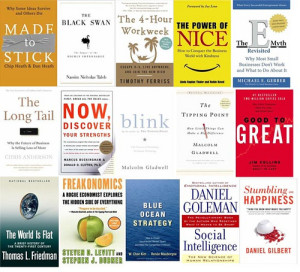 Many professionals have enough expertise to write a book, and most are planning to do it…someday, when they have time. But why wait, when there are so many benefits of writing and publishing a business book?
If you've been looking for a reason to get started on your business book, here are ten of them:
1. Get quality leads without trying
A book is a powerful sales tool for your business. When you have a book published, you're differentiated from the competition—and big name clients can find you. People who read your book are pre-sold on your business, making them more likely to hire you based on the reading.
2. Become a thought leader
When you have a business book out, you're viewed as an industry expert or guru. In addition to your personal status boost, your entire company can be seen as a thought leader in your industry.
3. Have instant credentials
In any business, the experts bring in the best clients. When you're the author of a business book, you have demonstrable expertise and extensive evidence to back up your claims—within your field, you "wrote the book."
4. Generate unsolicited business
Having a book out can bring unexpected and positive results—such as when business leaders read your book, and then call you up to say how much they enjoyed it, and ask how much you charge. Suddenly, picking up clients becomes a lot easier.
5. Open more doors
Whoever you may be interested in talking to, whether it's a fantastic prospective client, a powerful investor, or an industry expert who could help you further your business, the ability to send them a copy of your book can substantially increase your chances of arranging a meeting.
6. Close more deals
Service industries, consultancies, and other client-oriented business owners can take advantage of having authored a book during client negotiations. Your prospective clients are likely to ask why they should work with you—and you can answer by explaining that you wrote the book on your field of expertise. It gives you immediate credibility and helps close the sale.
7. Amplify your sales force
Although you will benefit directly from writing a business book, others in your company can also use your book as leverage. This is especially true for your sales team, who can hand out copies of the book to top clients and leads—which lets executives and VIPs view them as problem-solvers instead of money-grabbers.
8. Boost your client caliber
A business book can position you as an industry leader. When you're viewed as the expert or the guru, you'll find larger and more high profile businesses willing to work with you and benefit from your proven expertise.
9. Strengthen existing relationships
You can also use a business book to impress (and cross-sell to) your existing clients. There are many ways to do this, from offering a copy of the book as a bonus with the purchase of services, to sending out copies as gifts, to simply offering books for sale at client functions.
10. Make more money
Everyone wants to earn more and work less, and that's what a business book helps you do. By positioning yourself as an in-demand expert with your business book, your clients will be willing to pay more—since they can clearly see the types of results you can achieve, spelled out in your book.
Business books are powerful tools for professionals in any industry. Have you started writing yours yet?