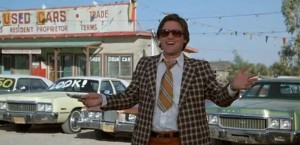 It's right there in the name: The purpose of SALES copy is to sell something to the reader. But, as you may have heard, today's potential customers don't want to be sold to. So how are you supposed to write sales copy that doesn't sell…but still sells?
Fortunately, it's not as confusing as it sounds. Here are some tips to help your copy stop selling to your customers, and start making sales.
Don't be "salesy"…
Shouting from the rooftops about how amazingly mind-blowing your product or service is, and why people need to buy it right this second, simply doesn't work. An overly salesy approach makes grand promises (you'll make a million dollars overnight!), pushes a lot of hype (this product will literally change your life!), and stresses urgency and fast action (act now, or gremlins will eat your grandmother!).
Aside from the wording, another popular "salesy" technique is to use big, bold font, colored type, capitalized words or phrases, and far too many exclamation points. This simply makes you look like you're on the other side of the screen, jumping up and down and shouting at your potential customers like a stereotypical used car salesman.
…but don't leave out selling entirely
Under-selling can be just as damaging to your marketing efforts as over-selling. It's a tough balance to strike, but don't tone down your sales copy so much that you forget to actually sell.
For example, let's say that it's National Hand Washing Awareness Week (which is a real thing—it's the first week of December), and your company sells handmade soap. So you decide to write a sales email for your mailing list. You spend a lot of time putting together an informative piece with current hand washing statistics and interesting information, you send it off to your list—but no one orders any soap, because you didn't mention selling it.
Even when you're avoiding the selling tactics that turn customers off, you need to include a call to action. It can be something as simple (and non-salesy) as a sentence at the end of your email: "In celebration of National Hand Washing Awareness Week, we're offering 50% off our most popular handmade soap bundle. Click here to get your discount and enjoy clean, fresh-smelling hands."
Focus on their needs—not yours
You need to sell a lot of homemade soap. But your customers aren't interested in helping to increase your profit margins—they just want clean hands. The best non-selling approach to sales is to identify what your customers want or need, and appeal to those desires in your copy.
One great way to do this is to identify your Unique Selling Proposition (USP)—the aspect of your products or services that set you apart, the benefit you can deliver to your customers that no other company can. This USP should be tailored to your target audience. For example:
If you have frugal customers, point out that your handmade soap is the most affordable on the market and offer to beat any competitor's price
If you have customers looking for luxury buys, emphasize the heavenly scents of your soap and the all-natural ingredients that leave skin softer
If you have hard-working customers, explain how the scientifically proven formula of your soap removes the toughest grime
Find out what your customers want, and use your sales copy to meet those desires in a logical way that's easy to envision. They won't feel sold to—they'll simply want what you have, and be willing to pay for it.