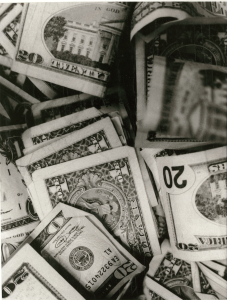 I've been a freelance writer for eight years now, since leaving my corporate content job in 2007. In that time, I've found that the only consistent part of content writing is its inconsistency — especially in regard to pay.
Starting out, anxious to build a portfolio and gain some credibility, I was content to get paid peanuts. I'll admit that I wrote plenty of articles for $10 or even $5 apiece. But as my experience and client list grew, I nudged up my fees accordingly. Even so, I've always been fascinated by the huge disparity in what various clients are willing to pay — and it's not always what you'd expect. A small business may offer a competitive rate for some blog posts, and the next day a larger company will share their considerably smaller budget for web content — leaving me scratching my head.
With the hugely subjective nature of placing a value on content, how can a freelance writer sniff out the higher-paying clients and eventually leave those $5 articles behind? Here are a few tips.
Vet the prospects. There ARE quality clients out there with healthy budgets. Sure, they're harder to find, but it's worth the digging. Bypass the too-good-t0-be-true Craigslist offers; these usually don't pan out. Take the time to thoroughly research companies, make a list of the good, solid ones, and tailor your marketing efforts to them.
Say bye-bye to job boards. Like most freelance copywriters, I used them early on, but they're not an avenue for sustaining a steady (or growing) income. Most of those boards are frequented by low-paying clients who want to audition a bunch of new writers for pennies on the word.
Network. Ideally, in person. A single face-to-face meeting can get you further down the path to prosperity than dozens of anonymous Internet exchanges.
Publish quality content. Whether it's your own freelance writing blog (like this one), or a reputable website or magazine, putting great content out there is the quickest way to build credibility and establish the trust of high-paying clients.
Base rates on value. Instead of limiting yourself by pricing your services hourly, consider how much revenue your web copy, article, or eBook will generate for the client – and then charge accordingly.
I could go on and on — but these are just a few of the ways that content writers can start weaning themselves off of penny-pinching clients and attract the ones who place a higher value on skilled writing professionals.